Product Detail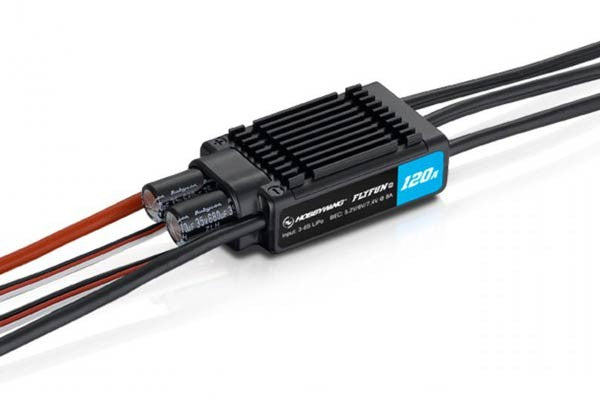 HobbyWing Flyfun V5 ESC (120A-6S)
Vendor: HobbyWing
Type: ESCs
FLYFUN series of intermediate level brushless power systems feature outstanding performance, great current endurance and excellent control feel are applicable to different classes of aircraft.
The DEO technology (Driving Efficiency Optimization) implemented in the ESC provides multiple advantages. New soft start-up modes are applicable to regular propeller aircraft and EDF aircraft with different sizes. With Reverse Brake mode enabled when landing can effectively shorten the sliding distance of the aircraft to simulate the landing of a real aircraft. the brake amount is adjustable in normal brake mode while in proportional brake mode, the brake force will be automatically allotted on the basis of the position of radio throttle stick.
Multiple protection features include start-up, over-current, ESC thermal, capacitor thermal, overload, throttle signal loss (or Fail Safe), and abnormal input voltage effectively prolongs the service life of the ESC.
Imported components, the high-performance 32-bit microprocessor, and the PCB (printed circuit board) with extremely low impedance adopted by the ESC guarantee great current endurance, excellent performance and high reliability.
Specifications
DEO Technology / Active Freewheeling

Rapider and smoother throttle response, better stability and flexibility during flight

Higher driving efficiency, longer flight time

Lower ESC temperature, more reliable operation

Normal Brake Mode

Proportional Brake mode

Brake Disabled mode

New design brings exquisite look and good heat-dissipating performance

Available in high-voltage/regular version with different Amps
Technical specifications
Type: Brushless
Cont./Peak Current: 120A/150A
Input: 3-6S LiPo
BEC Output: Switch Mode: 5.2V/6V/7.4V, 8A/20A
Input Wires: Red-12AWG-150mm*1
Output Wires: Black-12AWG-150mm*3
Input Connectors: No
Output Connecotors: 4.0 Gold Connectors (Female)
Transmitter: Supported
LED Program Card: Not Supported
LED Program Box: Supported
LCD Program Box: Not Supported
WiFi Module: Not Supported
Program Port: Separate Program Wire
Firmware Upgrade: Not Supported
Size: 77.2x34.6x19.2mm
Weight: 93g