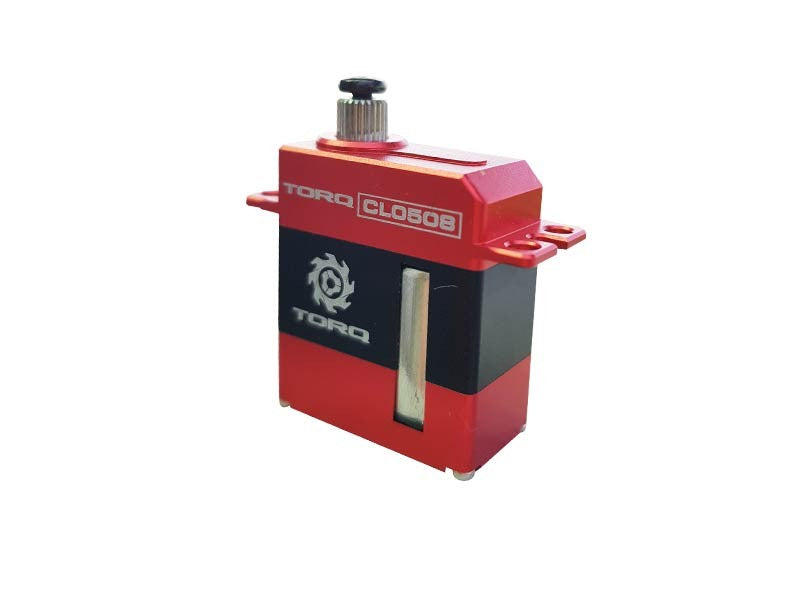 TORQ CL0508 Micro HV Servo (Heli / Jet / Airplane Applications)
Vendor: TORQ Servos
Type: Servos
CL0508 TORQ Micro Servo - Power, Performance & Pure Domination.
Optimized for second to none power & performance, TORQ brings forth a micro servo that is ready & able to push the boundaries of micro servo performance.
Designed specifically for high torque / high speed demands of helicopter, airplane & jet based aircraft, the CL0508 utilizes coreless motor technology to obtain maximum levels of high torque output, equating the TORQ CL0508 as one of the most powerful micro servos on the market.
With a crushing torque rating of 
6.20Kg.cm
 coalesced with a transit speed of 0.07 seconds, the TORQ CL0508 micro servo is ready to exceed the boundaries of your next flight with unparalleled leve;s of precision and resolution.
Constructed with a high strength steel gear and a 6061 aluminum case for optimized strength & thermal dissipation, the TORQ CL0508 is an ultra quality micro servo designed for extreme aircraft applications that demand the absolute maximum in every regime of flight. HV ready, the TORQ CL0508 servo is ready & able to meet the needs of any aircraft application, providing the immense power & performance you demand with incredible levels of precision and resolution for true control perfection. 
Step up to the TORQ CL0508 Micro Servo - pure performance & control, with the full ability to back it up in epic levels of servo domination.
Features:
- Engineered for High Performance Aircraft Extremes 
- Specifically Designed for Helicopter, Airplane or Jet Based Applications
- Massive Levels of Torque & Speed
- Ultra Precise, High Resolution Precision 
- Coreless Motor Design for Optimized High Torque Output
- Steel Gear Train for Maximum Strength
- Excellent Thermal Dissipation via 6061 Aircraft Aluminum Case
- 8.4V High Voltage Ready
- Replacement Steel Gears
Specifications:
Torque: 6.20Kg.cm (86.10 oz. in.) @ 8.4V / 5.20Kg.cm (72.21 oz. in.) @ 7.4V / (4.20Kg.cm (58.32 oz. in) @ 6.0V
Transit Speed: 0.07 sec. @ 8.4V / 0.08 sec. @ 7.4V / 0.09 sec. @ 6.0V
Dimensions: 23x12x27.5mm (LxWxH)
Weight: 20g
Operating Voltage: 4.8V - 8.4V DC
Working Frequency: 1520us / 333Hz
| | |
| --- | --- |
| | The TORQ CL0508 Micro Servo has been optimized with coreless motor technology, providing epic levels of torque in order to meet the demands of any aircraft extreme. From 3D helicopters, aerobatic airplanes or high speed jets, the TORQ CL0508 Micro Servo is the perfect choice to exceed your aircraft limitations. |
| | |
| --- | --- |
| | ULTRA FAST TRANSIT SPEEDS |
| | |
| --- | --- |
| Speed is life. Designed for ultra rapid transit speeds, the TORQ CL0508 offers incredible speeds for absolute levels of control, making your next flight truly epic in every possible way. No matter what you fly, the TORQ CL0508 is ready and waiting to provide the ultra fast inputs for crisp response & incredible control. | |
| | |
| --- | --- |
| HIGH STRENGTH STEEL GEARS | |
| | |
| --- | --- |
| | Designed with strength in mind to harness the ultra high levels of torque available, the TORQ CL0508 is optimized with a full steel gear train to provide the best levels of overall strength. Utilizing high strength steel gears helps stand up to crash damage for the best overall functionality when under the greatest levels of stress. |
| | |
| --- | --- |
| | INCREDIBLE PRECISION & RESOLUTION |
| | |
| --- | --- |
| Servos are your direct connection to your aircraft, and precision & resolution are paramount to flight. Offering incredibly high levels of precision, the TORQ CL0508 Micro Servos will provide an ultra smooth, "locked in" feel to your aircraft for maximum levels of aerobatic control. | |
| | |
| --- | --- |
| EXCELLENT THERMAL DISSIPATION | |
| | |
| --- | --- |
| | Heat is the ultimate enemy, and getting rid of it is critical for maximum levels of aircraft performance. Enclosed within a 6061 anodized aluminum case, the TORQ CL0508 servos dissipate thermal heat under high energy demands, allowing this micro servo to perform under intense stress, without fail. |
| | |
| --- | --- |
| Designed to maximize the highest ratings of torque & speed, the TORQ CL0508 is rated to handle unregulated 2S 8.4V LiPo power, taking full advantage of HV input power via receiver battery or BEC. With a wide operating voltage from 4.8V to 8.4V, the TORQ CL0508 servos will provide the power you need - when you need it the most. | |
| | |
| --- | --- |
| | Crashes happen, and even high strength gears can take a beating. No worries, though - with the TORQ CL0508, steel replacement gears are available, making it ultra easy to replace and maintain your servos, no matter what may happen in flight or on the ground.  |
-Designed specifically for high torque / high speed demands of helicopter, airplane & jet based aircraft, the CL0508 utilizes coreless motor technology to obtain maximum levels of high torque output, equating the TORQ CL0508 as one of the most powerful micro servos on the market. With a crushing torque rating of 6.20Kg.cm coalesced with a transit speed of 0.07 seconds, the TORQ CL0508 micro servo is ready to exceed the boundaries of your next flight with next level precision and resolution.
-Constructed with a high strength steel gear and a 6061 aluminum case for optimized strength & thermal dissipation, the TORQ CL0508 is an ultra quality micro servo designed for extreme aircraft applications that demand the absolute maximum in every regime of flight. HV ready, the TORQ CL0508 servo is ready & able to meet the needs of any aircraft application, providing the immense power & performance you demand with incredibly levels of precision and resolution for true control perfection.

Features:
- Engineered for High Performance Aircraft Extremes
- Specifically Designed for Helicopter, Airplane or Jet Based Applications
- Massive Levels of Torque & Speed
- Ultra Precise, High Resolution Precision
- Coreless Motor Design for Optimized High Torque Output
- Steel Gear Train for Maximum Strength
- Excellent Thermal Dissipation via 6061 Aircraft Aluminum Case
- 8.4V High Voltage Ready
- Replacement Steel Gears
Specifications:

Torque: 6.20Kg.cm (86.10 oz. in.) @ 8.4V / 5.20Kg.cm (72.21 oz. in.) @ 7.4V / (4.20Kg.cm (58.32 oz. in) @ 6.0V
Transit Speed: 0.07 sec. @ 8.4V / 0.08 sec. @ 7.4V / 0.09 sec. @ 6.0V
Dimensions: 23x12x27.5mm (LxWxH)
Weight: 20g
Operating Voltage: 4.8V - 8.4V DC
Working Frequency: 1520us / 333Hz